DIOR Pre-wedding photographer in Paris
I was booked by Xiaoyue and Zixuan for their Dior inspired two-day pre-wedding photoshoot in Paris at the Shangri-La. Nothing says more Paris than French fashion designers, right?
Pre-wedding at the Shangri-La
We started our first day of the pre-wedding photoshoot in Shangri-La Paris – one of the best luxury hotels in Paris. This place and the bride Xiaoyue in unapologetically feminine pink till dress overlooking the Gustav Eiffel's masterpiece created the overall feel of the chick and glam. Look at this view. The hotel's balcony facing the Eiffel Tower is a dream come true, no crowds, no barriers. Oddly the first owner of this building Roland Napoleon Bonaparte didn't like the views of Eiffel Tower. So he ordered his private bedroom to be built facing the street rather than the tower.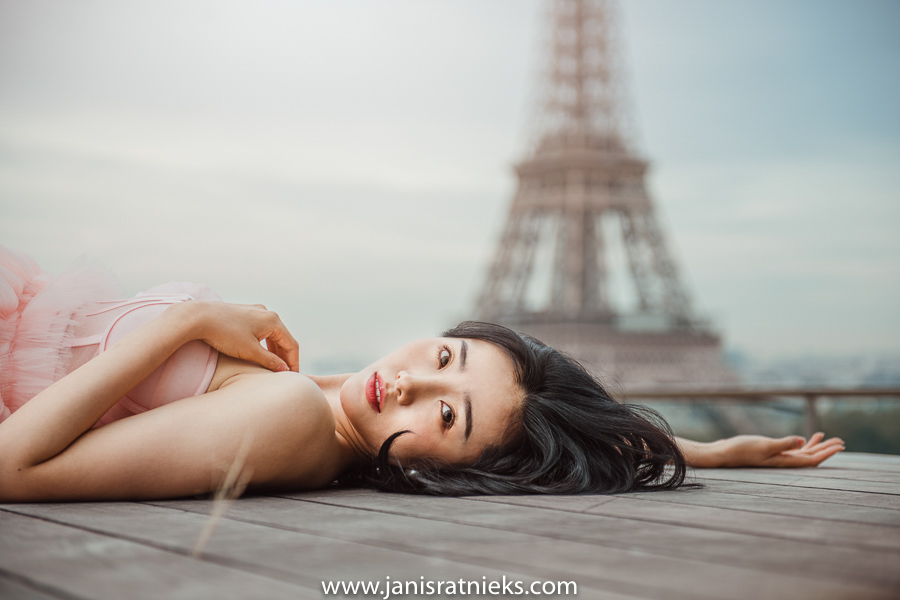 Pre-wedding at Chateau de Vaux-le-Vicomte
Then we took a short drive with a Bentley around the Trocadero that led us to Chateau de Vaux-le-Vicomte where the groom Zixuan was waiting for Xiaoyue. There I was introduced to the longest veil I've ever seen. I have to agree that Chateau de Vaux-le Vicomte is a perfect venue for a pre-wedding photoshoot or an actual wedding as it's only 50km away from Paris.
Chateau de Vaux-le-Vicomte garden photoshoot
The afternoon light and the magical garden of the chateau was a perfect background for our midnight summer dream. I still remember this warm perfect summer evening and the sweet, sweet scent of flowers. Not only the chateau is a human masterpiece, but also the castle's garden is worth mentioning. The garden was made as an optical illusion called anamorphosis abscondita. As I understand the elements of the garden are created so that with an eye they look closer than they really are. The chateau is listed as a Historic Monument in France and also has been a film setting for countless movies, tv-series, and shows like James Bond, Versailles, Sopranos, etc.
Paris pre-wedding photoshoot
The following morning we returned to Paris to dive into the romantic streets of the city. We went to Montmartre, Pont Alexandre III, and Pont des Arts by the river Seine. This Dior inspired pre-wedding photoshoot was a dream come true for everyone involved thanks to Wei from Iris weddings who put it all together into a perfect ensemble to make this vision happen. Thank you all and I'll see you in autumn for your wedding in France. If you'd like to book us for your pre-wedding photoshoot in Paris, please contact us here.
And now enjoy the full set of photographs here – feel free to comment below.
Enjoy!
Pre-wedding photoshoot – the full set.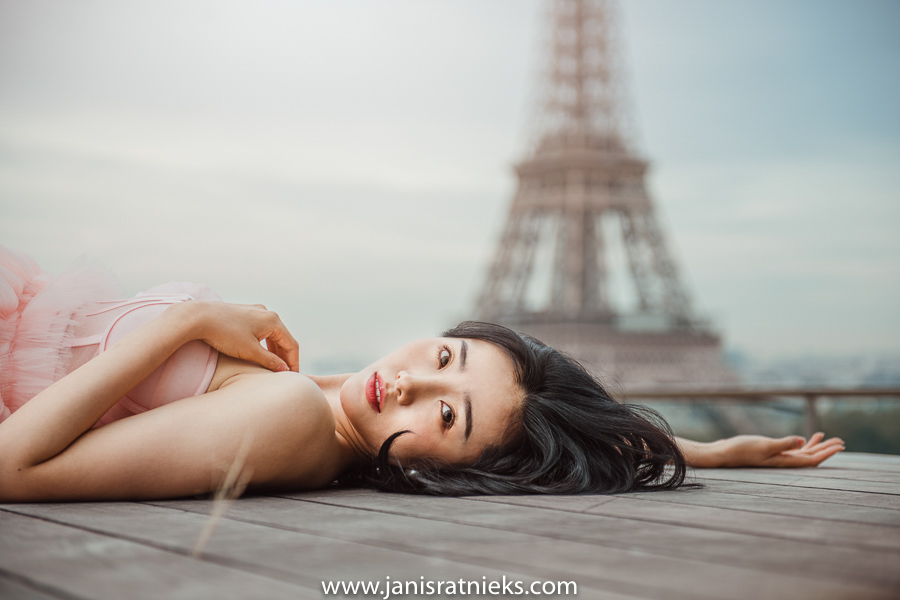 Pre-wedding photoshoot in Paris
Bentley Continental GT Convertible as a wedding car
The couple rented Bentley Continental GT Convertible exactly for this photoshoot. This elegant car is designed and built by hand in England.It perfectly blends in the streets of Paris and in front of the Chateau de Vaux-le-Vicomte. This 6.0 litre Bentley 12- cylinder is by all means a perfect get away car for running away with your lover.
These gardens are unbelievable. All those french summer flowers is perfect for a pre wedding photoshoot. I wish I could pass you that scent and aroma that filled the air.
This photo was made accidentally, but I love this natural and not staged composition and models. If you know those people on the motorcycle please let me know, I'll send them this photo.
I like these pigeons. They were posing with the bride and groom. I guess they were expecting something else from us.