Fall wedding in France
At the end of the summer heat, with leaves turning red and golden, a couple from China arrived in the historic city of Tours in France. Under the 100-year-old trees, under the guise of the Domaine de la Tortiniere, Xiao and Luzi promised to love and care for each other forever, and it was their perfect fall wedding in France.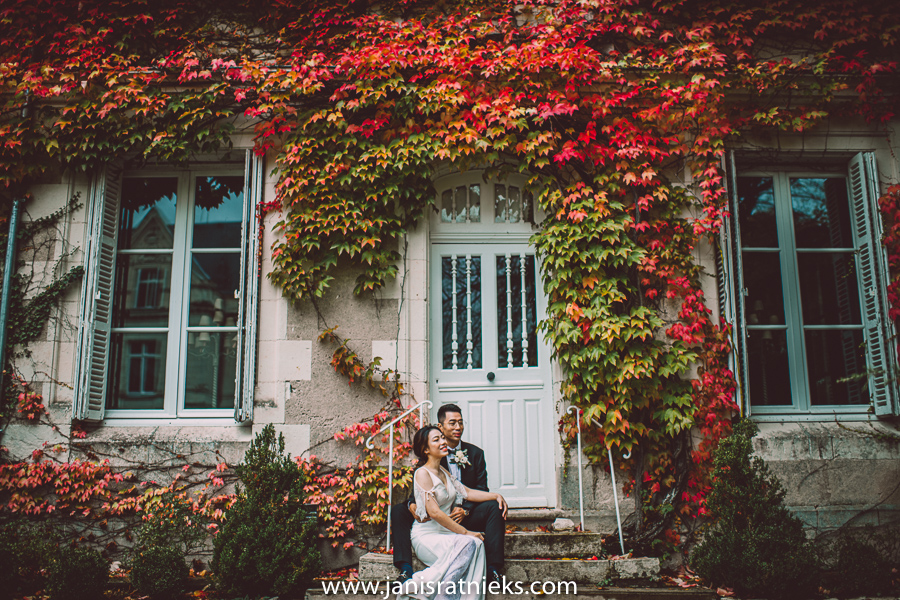 Paris weddings are usually chosen by couples with a taste of adventure, but France offers many other stunning and unforgettable perfect wedding locations. The rich history and culture of France provide great opportunities to choose a wedding venue for a variety of tastes and applications. Be it a  wedding at a beautiful winery with ancient vines, or Louis XIV's fine castle near Paris, or a small wedding at a fine French restaurant, or an exotic wedding in southern France, or a breathtaking wedding at the foot of the Pyrenees and Alps, France has it all.
Xiao and Luzi chose a small and intimate wedding in a French style. The professional team of Iris weddings Paris made it possible for their French dream wedding to become an unforgettable reality. The Domaine de la Tortiniere provided the perfect atmosphere, and French nature gave us unique fall colors.
"Celui qui veut avoir des fruits mûrs doit respecter l'arbre jusqu'à l'automne. (Aurélien, Hendrik Conscience)"
I've always enjoyed shooting weddings in fall and spring when nature offers so many unique wedding decorations free of charge. For example, sakura or magnolia flowers in spring, or red and yellow leaves in the fall. All this creates beautiful wedding designs and gives an unspeakable range of colors to wedding photographs.
As a wedding photographer, I'm always delighted with the wonderful light of fall, that's just unthinkable in the summer heat. If you get too bored, you always have a chance of catching some rain that will refresh the flower decor and shake the newlyweds with new emotions.
I appreciate the bride's great taste in choosing her wedding gowns and hair arrangements. Although the wedding took place in a French Chateau, the engagement atmosphere was light and intimate, not made more complicated by a huge dress.
It was my absolute pleasure spending the day with Xiao and Luzi, and I hope they're doing well now, I wish them all the best in the future.
If you're looking for a wedding photographer in France, and you'd like to book me for your wedding, please get in touch, the next fall is not too far away.
Enjoy the gallery below – fall wedding in France