Samantha and Christian at their stunning editorial-like destination wedding in Paris
Welcome to the real picture perfect Shangri-La Paris wedding story with real people and real emotions. No models and stylists involved, yet it looks so glamorous that it's almost possible to imagine that this wedding was staged for some kind of wedding blog or magazine. In fact, Samantha and Christian knew how to celebrate and so they did. I could not have asked for more as a wedding photographer in Paris.
A little side note here – if you're looking for a wedding photographer in Paris – be it for your wedding, elopement, or an engagement photoshoot – be sure to check here and browse through my blog for your wedding inspiration.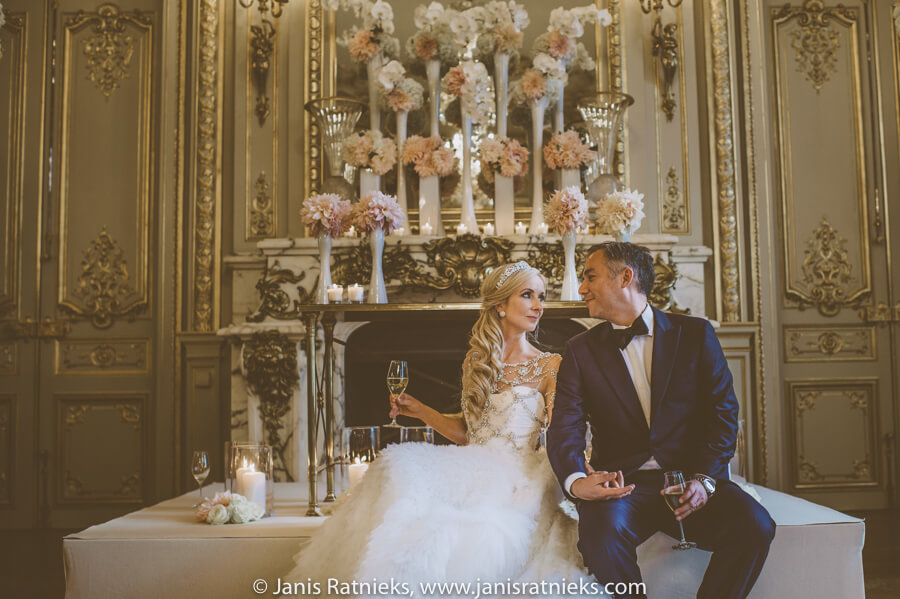 Samantha and Christian came all the way from Peru to their destination wedding in Paris. These were my first ever clients from Lima. South American guests turned out to be very "Hot Blooded" and partied like there was no tomorrow. It was no surprise that all of them knew the lyrics of that Despacito song that my daughter likes so much.
Shangri-La Paris Wedding
The couple chose to get married in one of the best and most romantic wedding venues in Paris. Shangri-La Hotel is located in the Trocadero district in Paris on Avenue d'Lena. This district is one of French high society's favourite place of residence. It's comparable with Kensington and Chelsea in London. I've shot many weddings in both of these districts of Paris and London. To see other weddings I've done in Shangri-La Paris, check here: Wedding photographer Shangri-La
Best wedding venue in Paris
You have six options to get married at Shangri-La Paris. There is Le Grand Salon option. This is one of the biggest and most magnificent rooms to get married in. Designed with Louis XIV gold and cream decors and all original chandeliers. This room hosts up to 180 guests The smaller salons for smaller events are Salon de Famille and Salle a Manger that can host up to 60 guests. Salon Roland Bonaparte is the largest of the salons decorated with beautiful frescos and arcades. It is ideal for wedding ceremonies and receptions and it holds up to 310 guests.
You can also have two outdoor options for hosting a wedding at Shangri-La Paris. The first one is Les Terrasses Eiffel. You can choose various terraces in the hotel to get married on facing the breathtaking Eiffel Tower. The other option is Le Jardin. The French-style garden on the hotel grounds you can have either as a wedding ceremony or cocktail hour venue. It hosts up to 50 guests. For a small, intimate wedding I suggest choosing a terrace overlooking the Eiffel. This hotel offers the rare possibility to have a perfect view of this iconic structure.
The bride and groom chose to have their ceremony in Le Grand Salon decorated with white and pink roses, orchids, dahlias, rose petals, and loads of candles. Later they had a wedding reception in Salon Roland Bonaparte.
Wedding photographer in Paris
Before the ceremony, they did the first look in Le Jardin, and off we went for a small photoshoot around Trocadero, Pont Alexandre III, and Pont de Bir-Hakkeim. It's a quite smart idea to do the shoot before the ceremony – you don't get separated from your guests after the ceremony, so you can go mingle with them right away. The only thing you have to take good care of is the dress, it has to look spotless for the ceremony!
I'd like to say huge thank you to Samantha and Christian for being great on the day, you were very easy to work with so I enjoyed every bit of the day. Thank you Arturo from La Fete ADN event planning from Peru – you designed a wonderful wedding. Thank you Roberto PicklingFilms for the professional work ethics on the day!