Best Pre-wedding photoshoot location in Europe
Looking for the ideal location for your pre-wedding photoshoot? The City of Love is the ideal destination for your photos. Paris has everything that photographers look for in a wedding location. From the centuries-old architecture to the gourmet food, Paris has it all.
From romantic cafes to chic boutique hotels, you'll find everything you need to create a memorable photo shoot. Check out this top-notch Paris pre-wedding photoshoot I did in Paris.
Dior inspired pre-wedding photoshoot in Paris
I was booked by Xiaoyue and Zixuan for their Dior-inspired two-day pre-wedding photoshoot in Paris at the Shangri-La. Nothing says more Paris than French fashion designers, right? Additionally, they wanted to incorporate Bentley Continental GT Convertible as well. Yes, Paris has everything a photographer can possibly dream of.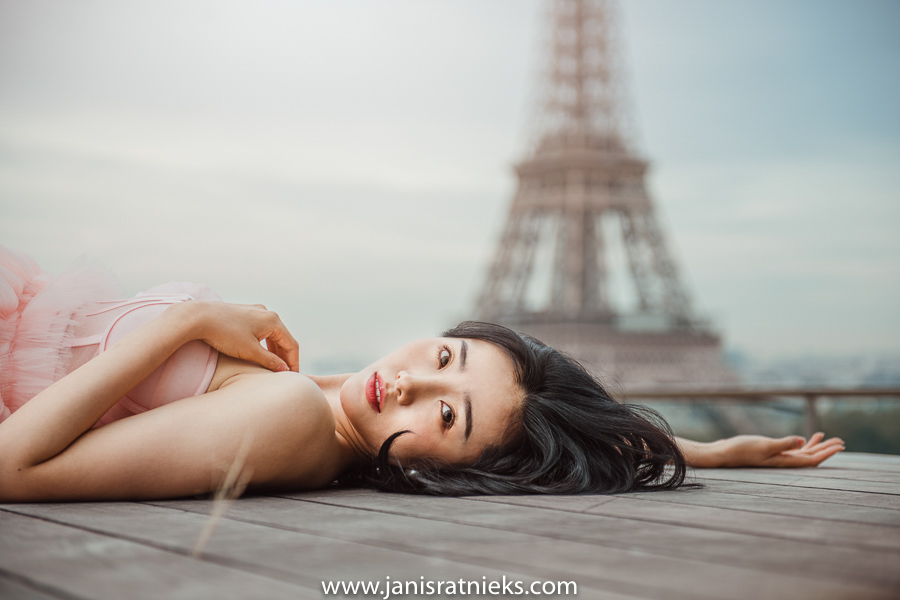 The Pre-wedding photoshoot at the luxury hotel Shangri-La Paris
We started our first day of the pre-wedding photoshoot in Shangri-La Paris – one of the best luxury hotels in Paris. Celebrities frequently grace this luxurious hotel. It has hosted numerous red carpet events with actors, actresses, and well-known socialites. A fitting location for this happily-ever-after pre-wedding photoshoot in Paris right?
The Bride loved every bit of it! This place and the bride Xiaoyue in unapologetically feminine pink till dress overlooking Gustav Eiffel's masterpiece created the overall feel of the chick and glam. Look at this view. The hotel's balcony facing the Eiffel Tower is a dream come true, with no crowds, and no barriers. Oddly the first owner of this building Roland Napoleon Bonaparte didn't like the views of the Eiffel Tower. So he ordered his private bedroom to be built facing the street rather than the tower.
Pre-wedding photoshoot at Chateau de Vaux-le-Vicomte near Paris
After the short drive with a Bentley, Chateau de Vaux-le Vicomte was waiting for us. When I arrived there, I saw the longest veil in my life scroll down to see it! The venue is perfect for both pre-wedding photoshoots and weddings themselves which are only 50km away from Paris. With a perfect blend of glamour and French royal flavor coming from a beautiful interior, Chateau de Vaux-le-Vicomte is indeed the best place to hand over your princess.
Also known as Palais Vaux-le-Vicomte, this Château was built by Marquis Nicolas II Fouquet, Louis XIV chief minister Baroin Nicolas Fouquet in 1656. It's the birthplace of many splendors including the "Fêtes de Vaux" with elite entertaining artists such as Molière, playwright, and actor Jean Rotrou and Lully Master for music who create operas about love, which all made it hard for Jeanne Poisson to be considered seriously as Charles' mistress by then.
The bride loved every bit of it! Old castles are just full of traces of history. Recently enough it has been transformed from a private residence into a museum showcasing precious antique pieces. Stairs with tulip flowers and deep colorful glasses flooded our dreamy pre-wedding photoshoot scene on the staircase landing bringing back that beauty and charm dusty past. I like how nature still dominates in such historical places—nature pacing in between worn-out materials reminding us that not everything may last forever though we admire them way too much: big windows dotting scenes also avoid lights too much while some beams added something natural
Chateau de Vaux-le-Vicomte garden pre- wedding photoshoot
The afternoon light and the magical garden of the chateau were a perfect background for our midnight summer dream. I still remember this warm perfect summer evening and the sweet, sweet scent of flowers. Not only the chateau is a human masterpiece, but also the castle's garden is worth mentioning. The garden was made as an optical illusion called anamorphosis abscondita. As I understand the elements of the garden are created so that with an eye they look closer than they really are. The chateau is listed as a Historic Monument in France and also has been a film setting for countless movies, tv-series, and shows like James Bond, Versailles, Sopranos, etc.
Paris pre-wedding photoshoot
The following morning we returned to Paris to dive into the romantic streets of the city. We went to Montmartre, Pont Alexandre III, and Pont des Arts by the river Seine. Ahhh…. Montmartre!! THE spot in France to do photos!! There are no words to adequately describe how wonderful of a place this is. You'll have a LOT of great locations/sets available at your disposal including trolley/horse carriages, little bridges, cafes, signs…… EVERYTHING!
Then we went to the banks of the Seine, the best time to go is at sunset so that you can take advantage of all the colorful shadows from the house walls, cafes, and buildings. The cobbled streets and stairways are very romantic too since they were made with great passion and love throughout the centuries 🙂 Pont Alexandre III is practically a photographic set all on its own. It lies between the Eiffel Tower and Champs-Élysée and is spectacularly decorated as a bridge for the view of the Trocadero Fountain which strategically sits at one end. The quick dip during sunset for a few seconds will give your image a great effect because you can capture the reds, pinks, oranges, magentas, blues… whatever they catch at that time.
This Dior-inspired pre-wedding photoshoot was a dream come true for everyone involved thanks to Wei from Iris weddings who put it all together into a perfect ensemble to make this vision happen. Thank you all and I'll see you in autumn for your wedding in France. If you'd like to book us for your pre-wedding photoshoot in Paris, please contact us here.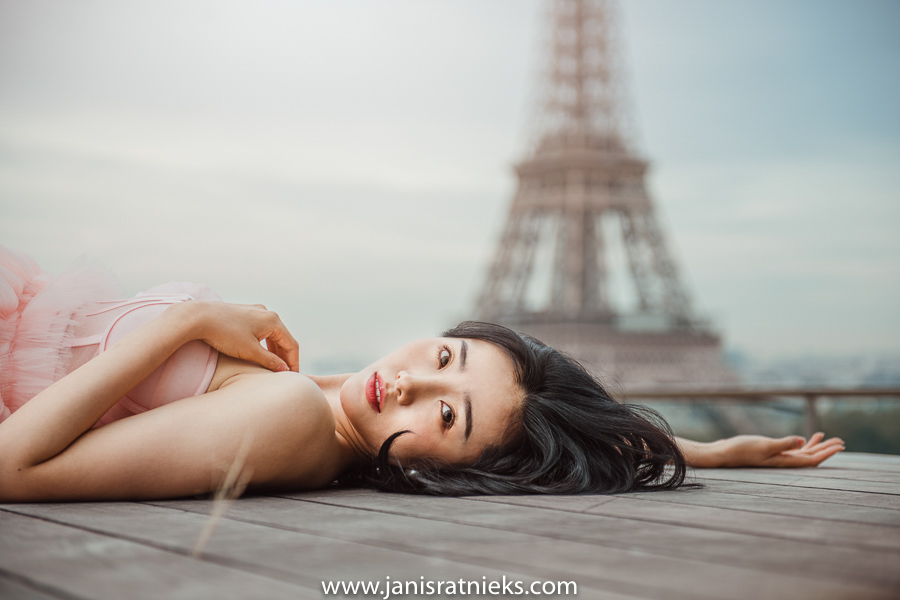 Pre-wedding photoshoot in Paris
Bentley Continental GT Convertible as a wedding car
The couple rented Bentley Continental GT Convertible exactly for this photoshoot. This elegant car is designed and built by hand in England. It perfectly blends in the streets of Paris and in front of the Chateau de Vaux-le-Vicomte. This 6.0 liter Bentley 12- cylinder is, by all means, a perfect getaway car for running away with your lover.
These gardens are unbelievable. All those french summer flowers are perfect for a pre-wedding photoshoot. I wish I could pass you that scent and aroma that filled the air.
This photo was made accidentally, but I love this natural and not staged composition and models. If you know those people on the motorcycle please let me know, I'll send them this photo.
I like these pigeons. They were posing with the bride and groom. I guess they were expecting something else from us.
Paris pre-wedding photographer
And if you are looking for a Paris pre-wedding photographer or anywhere else around the world, please contact me at [email protected] or call +44 7979974527.
I have written an article on Chateau de Vaux-le Vicomte that you can explore here:
Chateau Vaux-le-Vicomte is a truly luxurious wedding venue near Paris