The timeless allure of Paris, often dubbed the "City of Love," is an unparalleled backdrop for capturing the profound love and enchanting romance shared between two individuals about to embark on the journey of marriage. This blog post delves into the magic of pre-wedding photography in Paris, highlighting the mesmerizing locations, rich history, and the expert touch of a pre-wedding photographer to immortalize the essence of love amidst iconic landscapes.
Why Choose Paris for Your Pre-Wedding Photography?
The decision to have a pre-wedding photography session in Paris isn't just about creating beautiful images; it's about weaving your love story into the fabric of this enchanting city. Paris beckons with its iconic landmarks like the majestic Eiffel Tower and the graceful Seine River. These timeless symbols of romance provide the perfect canvas for capturing the excitement and intimacy that comes with the journey to marriage. Beyond the landmarks, Paris boasts charming cafes and cobblestone streets that seem designed to be part of a love story. Whether it's a cozy cafe or a historic bridge, Paris offers a plethora of picturesque backdrops for your pre-wedding photoshoot.
A Dior-Inspired Dream: A Pre-Wedding Photoshoot at Shangri-La Paris
Picture this: a Dior-inspired pre-wedding photoshoot set against the opulent backdrop of Shangri-La Paris, one of the city's most luxurious hotels. Imagine the blending of French fashion elegance and timeless love. Xiaoyue and Zixuan's dreamy two-day pre-wedding photoshoot came to life at the Shangri-La, capturing the essence of Parisian romance.
Incorporating Elegance with a Bentley Continental GT Convertible Elegance meets sophistication as the couple chose to incorporate a Bentley Continental GT Convertible into their pre-wedding photoshoot. The sleek curves of the handcrafted car, juxtaposed with the city's architectural marvels, created a visual symphony of luxury and love.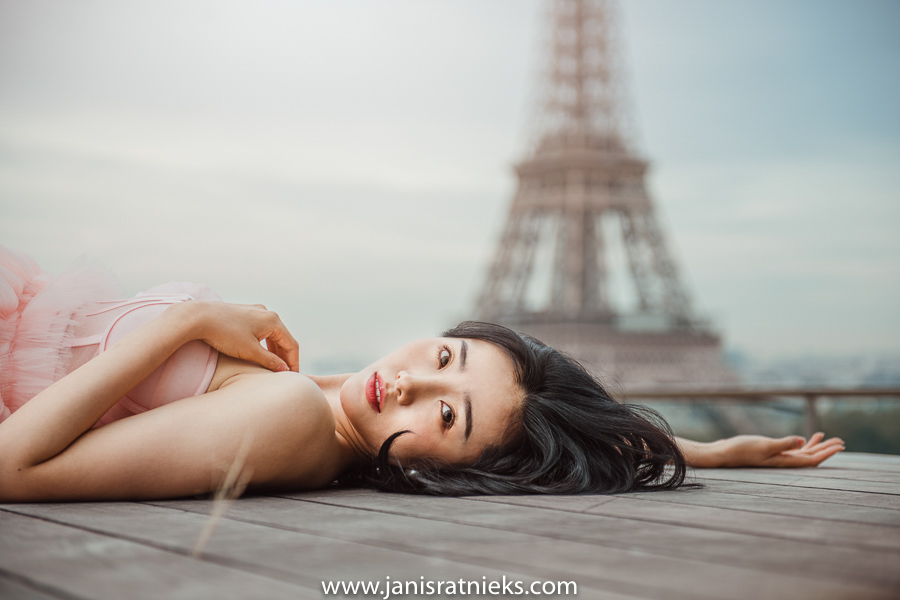 Capturing the Elegance at Shangri-La Paris: Day One
The pre-wedding photoshoot commenced at the prestigious Shangri-La Paris, a place where celebrities often grace with their presence. As the lens focused on Xiaoyue donned in an unapologetically feminine pink gown, the iconic Eiffel Tower stood as a majestic witness in the background. This juxtaposition of elegance and Gustav Eiffel's masterpiece set the tone for the chic and glamorous theme of the photoshoot.
The balcony of the hotel facing the Eiffel Tower provided an unobstructed view, creating an intimate ambiance for the couple's moments of love. Interestingly, the hotel's history adds a touch of intrigue: the first owner, Roland Napoleon Bonaparte, favored a view of the street over the Eiffel Tower, resulting in the private bedroom's orientation towards the former.
Stepping Back in Time: Chateau de Vaux-le-Vicomte
The enchantment continued as the couple embarked on a short drive, leading them to Chateau de Vaux-le-Vicomte. Situated a mere 50km from Paris, this historic castle holds within its walls a fusion of glamour and French aristocracy. With a history dating back to 1656, when Marquis Nicolas II Fouquet commissioned its construction, the chateau has witnessed countless tales of splendor and love.
An Antique Haven with Modern Touches The Chateau de Vaux-le-Vicomte stands as a living testament to history, transitioning from a private residence to a museum, adorned with precious antique pieces. The grand staircase adorned with tulip flowers and the play of light through colorful glass windows added a touch of ethereal charm to the pre-wedding photoshoot. Nature's presence amidst the historical setting served as a reminder that while beauty persists, nothing is eternal.
The Blossoming Beauty of Chateau's Gardens
As the afternoon sun bathed the castle's garden in a warm embrace, the pre-wedding photoshoot continued its journey into a midsummer night's dream. The castle's garden, meticulously designed as an optical illusion known as "anamorphosis abscondita," greeted the couple with a riot of French summer flowers. The enchanting garden served as an ode to love, a perfect representation of the romance shared by couples embarking on their journey together.
Chateau de Vaux-le-Vicomte garden pre-wedding photoshoot
The afternoon light and the magical garden of the chateau were a perfect background for our midnight summer dream. I still remember this warm perfect summer evening and the sweet, sweet scent of flowers. Not only the chateau is a human masterpiece, but also the castle's garden is worth mentioning. The garden was made as an optical illusion called anamorphosis abscondita. As I understand the elements of the garden are created so that with an eye they look closer than they really are. The chateau is listed as a Historic Monument in France and also has been a film setting for countless movies, tv-series, and shows like James Bond, Versailles, Sopranos, etc.
Romance in the Heart of Montmartre and Along the Seine
Montmartre: Where Dreams Find Expression The sun rose on a new day, and Xiaoyue and Zixuan found themselves in Montmartre, a neighborhood that embodies the essence of artistic and bohemian Paris. With its charming trolley carriages, cobblestone streets, and cozy cafes, Montmartre offers an abundance of picturesque settings for pre-wedding photography. Every corner seems to have a story to tell, and every cobblestone seems to whisper tales of love. Against this artistic canvas, the couple's love story found its voice, captured through the lens in a multitude of emotions and poses.
Pont Alexandre III: An Emblem of Love The journey continued to the majestic Pont Alexandre III, a bridge that elegantly links the Eiffel Tower with the Champs-Élysées. Adorned with intricate sculptures and ornate lampposts, the bridge is a masterpiece of architecture and an embodiment of love's enduring spirit. The Trocadero Fountain, strategically positioned at one end, provided a stunning backdrop for capturing the romance between Xiaoyue and Zixuan.
Dior-Inspired Elegance: A Dream Realized
This Dior-inspired pre-wedding photoshoot was more than just a visual journey; it was a dream realized through the meticulous orchestration of Wei from Iris Weddings. From the couture fashion to the captivating settings, every element came together to create an ensemble of elegance and sophistication. As the couple's love story intertwined with the city's charm, the result was a collection of images that speak of passion, commitment, and a journey into forever.
Capturing Every Nuance with Nikkor 85mm f1.4 on Nikon D850 Behind every stunning image is the skillful artistry of the photographer's lens. The Nikkor 85mm f1.4 lens mounted on a Nikon D850 played a pivotal role in rendering the depth and perspective of the scenes. From the richly detailed architecture to the couple's intimate moments, the lens captured every nuance, turning moments into memories frozen in time.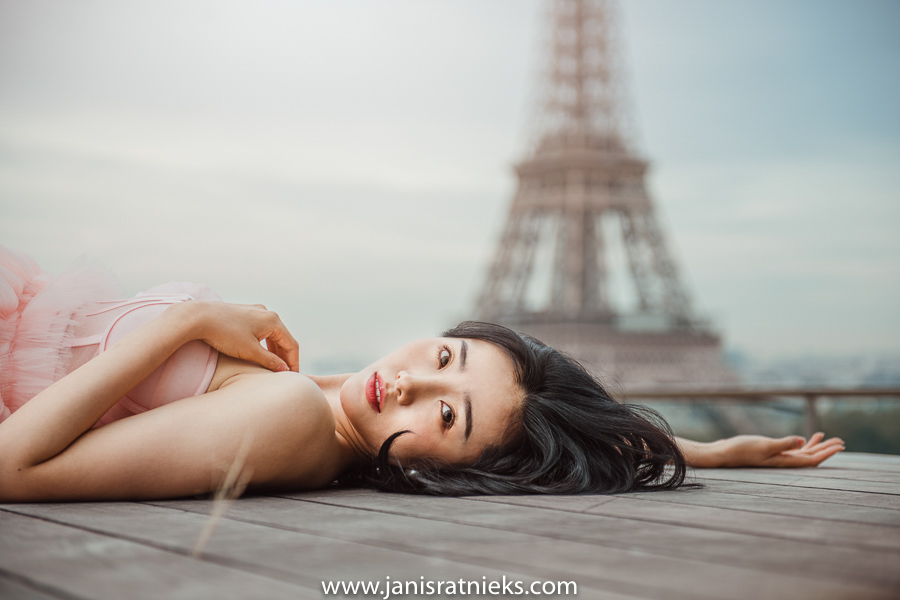 Pre-wedding photoshoot in Paris
Bentley Continental GT Convertible: A Symbol of Luxury and Escape
As the photoshoot unfolded, the Bentley Continental GT Convertible stood as a symbol of both luxury and escape. The handcrafted masterpiece designed in England seamlessly blended with the Parisian streets, becoming an elegant prop that accentuated the couple's journey. The 6.0-liter Bentley 12-cylinder engine not only exuded power but also embodied the couple's readiness to embark on a journey of love.
The Pigeons of Paris: Unlikely Companions Amidst the grandeur of iconic locations and romantic backdrops, the pigeons of Paris played their part as well. In an unexpected twist, they became charming companions, photobombing moments and adding a touch of whimsy to the pre-wedding photoshoot. Their unexpected presence served as a reminder that love's journey is full of delightful surprises.
Embracing Eternal Romance in Paris
As the sun began to set on the second day of the pre-wedding photoshoot, Xiaoyue and Zixuan's journey through Paris continued to unfold. From the opulent halls of Shangri-La Paris to the historic Chateau de Vaux-le-Vicomte, and the vibrant streets of Montmartre to the romantic bridges over the Seine, their love story was etched into the heart of the city. The Dior-inspired elegance, the touch of a skilled lens, and the opulence of a Bentley Convertible all played their part in capturing the essence of their love, leaving behind a trail of images that celebrate their journey forever. Stay tuned for the final part of this series, where we delve into the magic of the Seine's banks and the culmination of a love story intertwined with the charm of Paris.
These gardens are unbelievable. All those french summer flowers are perfect for a pre-wedding photoshoot. I wish I could pass you that scent and aroma that filled the air.
Embracing Parisian Elegance: Seine's Banks and Beyond
Capturing the Colors of Sunset by the Seine
As the pre-wedding photoshoot entered its final phase, the backdrop transitioned to the banks of the Seine River. The golden hues of the sunset cast a warm glow over the city, creating a canvas painted with shades of red, pink, and orange. Against this breathtaking backdrop, Xiaoyue and Zixuan's love story unfolded, capturing the vibrant energy of the city and the tranquil intimacy of their moments together.
Chic and Cosmopolitan: Pont des Arts The iconic Pont des Arts, adorned with love locks and carrying the whispers of countless love stories, welcomed the couple into its embrace. This pedestrian bridge exudes a chic cosmopolitan vibe, making it a favorite among couples seeking to encapsulate their romance against the timeless backdrop of the Seine and the Parisian skyline. Xiaoyue and Zixuan's journey across the bridge became a metaphor for the path they were about to embark upon in their married life.
Basking in Love's Glow: A Parisian Elopement
For Xiaoyue and Zixuan, the allure of Paris wasn't just about the pre-wedding photoshoot—it was about embracing love's glow in a city that has witnessed countless love stories. Their journey culminated in a Parisian elopement that encapsulated their commitment and the profound connection they shared. The cobblestone streets, the Seine's gentle ripples, and the Eiffel Tower's majestic presence bore witness to their intimate exchange of vows.
A Symphony of Memories and Moments
As the pre-wedding photoshoot reached its crescendo, the images captured weren't just photographs; they were a symphony of memories and moments frozen in time. The elegance of Dior-inspired attire, the luxurious Bentley Convertible, the timeless architecture, and the rich history of Paris merged to create a tapestry that depicted the couple's journey towards a shared forever. Through the artistry of pre-wedding photography, their love story was translated into a visual narrative that resonates with emotions and dreams.
A Timeless Souvenir of Love: Preserving the Memories
Pre-wedding photography in Paris isn't just about capturing moments; it's about preserving the memories of a once-in-a-lifetime chapter. The images taken during this photoshoot are more than photographs—they are a testament to a love story that transcends time and distance. Xiaoyue and Zixuan's pre-wedding photoshoot serves as a timeless souvenir of their journey, encapsulating their emotions, dreams, and the promise of a life intertwined.
Final Thoughts: Love Blossoming in Paris
As the final rays of the Parisian sunset painted the city with a golden hue, Xiaoyue, and Zixuan's pre-wedding photoshoot came to an end. Their love story, encapsulated in the images, remains etched in the heart of Paris—a city that has seen countless love stories but treats each one as unique and special. From the opulence of Shangri-La Paris to the historic charm of Chateau de Vaux-le-Vicomte, from the artistic corners of Montmartre to the romantic bridges along the Seine, their journey through Paris became a celebration of love, a fusion of dreams and reality, and a testament to the magic that happens when love blossoms in the City of Love.
This photo was made accidentally, but I love this natural and not staged composition and models. If you know those people on the motorcycle please let me know, I'll send them this photo.
I like these pigeons. They were posing with the bride and groom. I guess they were expecting something else from us.
Tips for Preparing for Your Pre-Wedding Photography Session in Paris To make the most of your pre-wedding photography session in Paris, here are a few tips to help you prepare:
Plan your outfits in advance. Choose outfits that complement each other and match the theme of your photo shoot.
Consider hiring a professional hair and makeup artist to help you look your best.
Plan your route in advance and choose locations that are meaningful to you.
Allow plenty of time for the photo shoot so that you can take advantage of different lighting conditions and locations.
Be open to the photographer's suggestions and trust in their expertise.
Pre-wedding photography in Paris is a magical experience that will help you capture the romance and love between you and your partner. With its stunning backdrops and iconic landmarks, Paris is the perfect destination for pre-wedding photos. By choosing the right photographer and preparing accordingly, you can ensure that you get the best possible photos to remember this special time in your life. So why wait? Book your pre-wedding photography session in Paris today and start capturing the memories of your love story.
FAQs About Pre-Wedding Photography in Paris: Your Ultimate Guide
1. Q: Why is Paris considered an ideal location for pre-wedding photography?
A: Paris offers a magical blend of iconic landmarks, charming streets, and romantic settings, making it the perfect backdrop for capturing your love story in breathtaking images.
2. Q: What makes a pre-wedding photoshoot in Paris special?
A: Paris exudes a timeless charm that enhances the emotions of love and romance, resulting in images that encapsulate your journey toward marriage in a unique and unforgettable way.
3. Q: How do I choose the right pre-wedding photographer in Paris?
A: Look for photographers with experience in capturing the city's essence and your personal style. Browse portfolios to find a photographer whose work resonates with your vision.
4. Q: What are the best locations for pre-wedding photoshoots in Paris?
A: Paris offers a myriad of picturesque locations, including the Eiffel Tower, Montmartre, Pont Alexandre III, and the Seine's banks, each contributing to a diverse and enchanting photoshoot.
5. Q: Can I incorporate unique themes into my pre-wedding photoshoot?
A: Absolutely! Many couples opt for themes that resonate with their personalities. Paris provides a versatile canvas to bring your vision to life, whether it's vintage elegance or modern romance.
6. Q: How can I prepare for my pre-wedding photography session in Paris?
A: Plan your outfits, consider hiring hair and makeup professionals, choose locations that hold meaning for you, and be open to your photographer's suggestions.
7. Q: What equipment is essential for capturing stunning pre-wedding photos in Paris?
A: Professional lenses, like the Nikkor 85mm f1.4 on Nikon D850, can capture the intricate details of both couples and surroundings, ensuring breathtaking results.
8. Q: Can I include props or vehicles like Bentley Convertibles in my photoshoot?
A: Absolutely! Incorporating elements like Bentley Convertibles adds elegance and luxury to your photos, enhancing the overall aesthetic of your pre-wedding story.
9. Q: Are Parisian pre-wedding photoshoots only suitable for elaborate weddings?
A: Not at all! Pre-wedding photoshoots in Paris are for couples of all styles and wedding plans, allowing you to capture your love story in a setting that resonates with you.
10. Q: How can I book a pre-wedding photoshoot with a Paris pre-wedding photographer?
A: To embark on your own pre-wedding photography journey in Paris, contact us at [email protected] or call +44 7979974527. We're here to make your dream photoshoot a reality.
Eternalize Your Love Story:
Contact a Paris Pre-Wedding Photographer If you're envisioning your own pre-wedding photoshoot in Paris—a tale of love interwoven with the city's enchantment—reach out to us at [email protected] or call +44 7979974527. Let us capture the essence of your love against the backdrop of Parisian elegance, creating a visual masterpiece that immortalizes the beauty of your shared journey. Your love story deserves to be celebrated, and Paris is waiting to be the canvas that brings it to life.
I have written an article on Chateau de Vaux-le Vicomte that you can explore here:
Chateau Vaux-le-Vicomte is a truly luxurious wedding venue near Paris