Vibrant Venice wedding
As a Venice wedding photographer, I can sincerely confess – there's no other place like Venice in the world. Oh, Venice! You've been so exciting and full of history. That's why so many people around the world desire to visit it, to explore it, to Experience it. If you haven't been to Venice yet, hurry up, pack your bags, and off you go. While it's still there.
Venice is a damn beautiful and exciting city on the sea. It has been floating on the water for centuries, rising with her tiara of proud towers. See what gives Venice its power to attract people. Once you've been to Venice, you'll never forget it.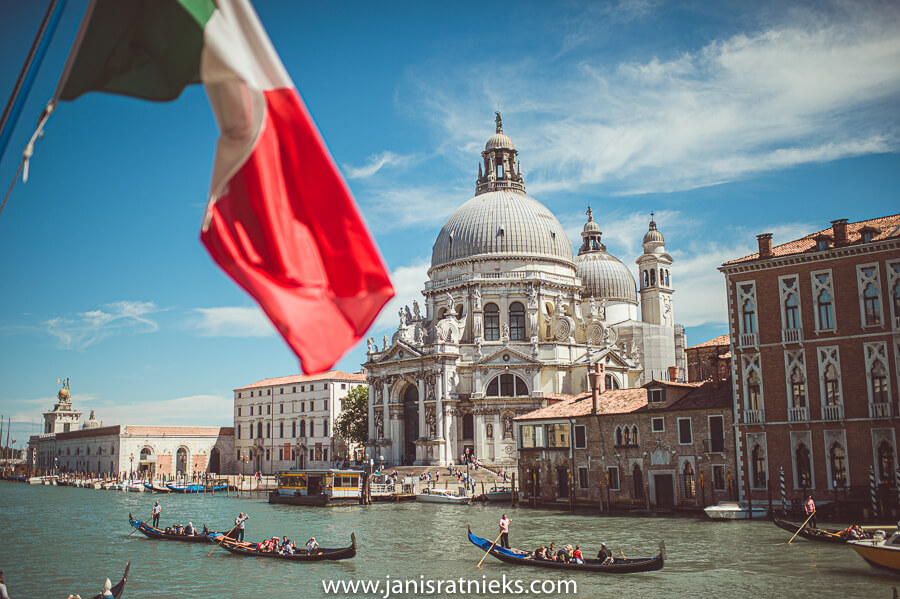 So did I! From the first visit till now I still remember that feeling I had when wandering through the streets and labyrinths of Venice. While there I also had to change some of my habits, because in Venice everything is different. The same is with weddings in Venice, absolutely everything is different.
Why get married in Venice?
There are many reasons why to get married in Venice, no wonder George Clooney got married in Venice as well.
First of all, your guests and you will get that unique experience no other place can give to you. Venice is possibly the most exclusive option for getting married in Europe.
The curse of a car never appeared in Venice. You can arrive at your wedding in a fabulous vintage Riva boat or a hundred years old gondola. Your arrival at the wedding will be like a scenic drive all the way through the most amazing city canals. Passing the Rialto bridge, San Marco Square, and basilica with its Byzantine architecture.
Religious ceremonies of all confessions are possible in numerous churches and cathedrals that are spread across the islands of Venice. You can also have a civil wedding in many of the city's palaces.
There are countless chic Venetian hotels and super Renaissance palaces that are available for wedding receptions. Here I'll name just some of them – San Clemente Palace Kempinski, Luna Hotel Baglioni, Bauer Palazzo,Ca'Sagredo, Sina Centurion Palace, Belmont Hotel Cipriani, and Gritti Palace.
With that being said I'm happy to introduce you to this vibrant Venice wedding I did a while ago, but still, have all the memories fresh like I just photographed it yesterday. Meet Sophie and Benjamin at their vibrant Venice wedding.
Gritti Palace hotel wedding – getting ready.
We started the day very early at the Gritti Palace hotel, where both the bride and the groom were getting ready for their big day. Sophie and Benjamin chose to stay in a more than 500 years old hotel – Gritti Palace. This glamorous five-star hotel is being called a Venetian Gothic wonderland. Once being home for Andrea Gritti, now filled with many collectibles. This hotel hosts many high-profile events.
After running all morning back and forth from the bride's to the groom's room, I managed to capture all the precious moments. Starting from the moment where the mother of the groom helps to pick out the right bow tie till the final makeup touches for the bride. This time it was quite an easy job as they were staying in the same hotel with rooms not far from each other. Sophie stayed in Somerset Maugham Royal Suite, benjamin in the Landmark Grand Canal Room.
Pisani Moretta wedding ceremony
After some hours spent getting ready the groom and I went to the Palazzo Pisani Moretta. It's one of the most remarkable palaces in Venice where the wedding ceremony and wedding dinner took place. You can find it along the Grand Canal between Rialto Bridge and Ca'Foscari. This wedding venue was built in the 15th century by the Bembo family, but later became a residence for the Pisani family. The Palazzo is famous for housing many artworks by major Italian artists of the 18th century and for hosting The Ballo del Doge. It is a Venetian masquerade ball for many famous people.
You can only have a symbolic wedding ceremony or elopement ceremony in Palazzo Pisani Moretta. That's exactly what my newlyweds had. All started with Ben greeting his guests at the dock of the Palazzo. Then Sophie and her father arrived in the most beautiful gondola covered by the rain rose petals. This was truly a magical moment. Although a bit challenging to photograph as the building cast a shadow in the water.
The wedding ceremony took place in the central hall overlooking the Grand Canal. Big Gothic-style windows and crystal chandeliers filled the room with the most beautiful afternoon light. Then in a fairytale setting and hundreds of candles, Sophie and Benjamin celebrated their "I Do" party recreating the atmosphere of celebrations of the past time.
Final thoughts on Venice – it's one of the greatest places on Earth for wedding photography – it takes some tricks to shoot it right there, but it definitely has its charm. This was my third time there – thank you Benjamin and Sophie for this! To see my first wedding photoshoot in Venice please check here.
After wedding day photoshoot in Venice
The following morning we woke up early – we had an early morning photoshoot with Sophia and Ben. We chose to add an extra photoshoot as we didn't have enough time during the day and the city is packed with tourists. In my mind, the best idea is to have a photo shoot while the tourist boats haven't docked yet, so you be sure to finish the shoot by 9 am. Thank you guys for the endurance, I know it's not easy waking up at 5 am the morning after your wedding, but the photographs are well worth it. I will be publishing them in my next blog post very soon, so stay tuned.
Venice wedding photographer
And if you are looking for a Venice pre-wedding photographer in Italy or anywhere else in Europe, please contact me at [email protected] or call +44 7979974527.
Or just simply please get in touch. The place is special and so will be our deal.
Enjoy and let's stay in touch.
You can see more of my weddings in Italy here:
Florence Four Seasons Hotel Wedding In Tuscany
Pre-wedding photoshoot in Venice, Burano, and Dolomites, Italy
Delightful Wedding in Portofino, Italy – Villa Durazzo, Hotel Splendido and Hotel Imperiale
Stunning Wedding At Villa Cordevigo Lake Garda Italy
Lake Como wedding photographer, Villa Carlotta, Grand Hotel Tremezzo
Fantastic Portofino pre-wedding photoshoot
Lake Como wedding photography- Villa Giuseppina, Villa Erba and Sant'Abbondio church