A French Castle destination wedding in Loire Valley, France
This is a common knowledge that it takes two to tango right? Well, meet two of them – Monica and Sherwin at their French Castle Destination Wedding in Loire Valley.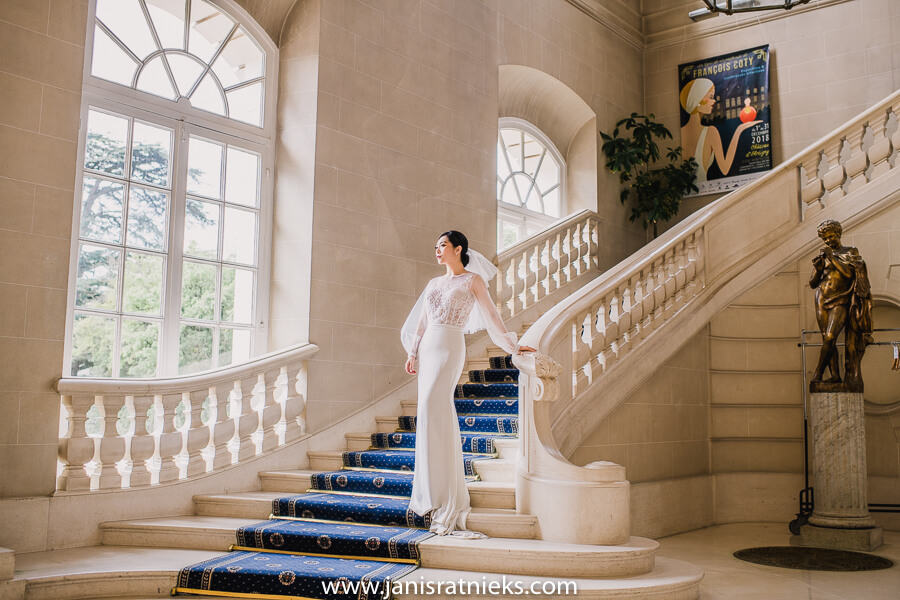 I shot this wedding last April in Chateau d'Artigny. It was a late spring wedding in France. In general, the weather is quite nice in April in France. If you haven't chosen a destination for your spring wedding, I'd suggest to go for France. It is very nice here, not too hot, everything is so green and blooming. No hurricanes, no monsoons.
Chateau D'Artigny is named as one of the TOP 20 wedding Chateaus in France. I placed it in my top 5. Look here to find out more about this absolutely elegant french chateau.
In my vast wedding photographer's experience, I've learned that not an ordinary couple would choose a Tango as their first dance. I must agree that Monica and Sherwin were not an ordinary couple, as their wedding day wasn't one. Scroll down and you'll see the dress Monica wore during the wedding ceremony. The dress was so huge, that when she fell over, she never touched the ground. One of the positive sides of that epic dress.
How many photographers do you need for your destination wedding?
You have to factor in several things when considering the number of photographers:
first of all, it depends on if the bride and groom are getting ready in the same building or not. If they get ready in the same hotel, then it's easy to run back and forth. However if they're getting ready in different hotels, and would like both parties to be covered, then I suggest going for two photographers.
another factor is the number of guests you're planning to invite. My formula is quite simple. If you're having a party of up to 150 guests, then one photographer is enough. Above that, I'd recommend having two photographers. If you're having a party of more than 300 guests, then I'd recommend having three wedding photographers.
and finally, you have to consider the activities taking place during your wedding simultaneously. For example, in Jewish weddings, it's quite often that men and women are separated and have their own processions going on at the same time.
There's also a thing you need to take into consideration when hiring a photographer with an assistant photographer. Is the second photographer a professional or just a guy/girl with a camera. I always choose a professional as my second and third photographer. I trust them, I know that the result will be perfect. For this wedding, for example, I was the only photographer, and it was just fine.
An amusing Chinese wedding tradition
Well, back to Monica and Sherwin. As both of them are from China, they had this Chinese wedding tradition called wedding door games. These games are challenges set up by bridesmaids for the groom. With completing them the groom demonstrates his love and affection to the bride. This wedding tradition usually takes place in the morning before the groom is allowed to meet the bride. Of course, groomsmen help the groom to complete all tasks.
The first task is usually "No money, no honey". To get into the building the groom has to offer the "red envelope" (or the wechat payment barcode). This is where bridesmaids demand some money from the groom that is accompanied by the traditional bargaining.
As you can see in the photos I took at the wedding, these tasks were a bit on the funny side, girls made some fun of boys. Common games include eating funny foods or answering questions about the bride. I must say this part was quite funny.
White wedding ceremony at Chateau D'Artigny
Before saying "yes" to each other Monica and Sherwin rehearsed their first wedding dance which I already told you was Tango. As this dance is on the complicated side and demands some practice, the couple had to find time during the day to rehearse it.
And then there was the ceremony. It took place on front garden of the Chateau d'Artigny. The place was decorated beautifully with white floral wedding arch decors and white rose petals around the mirrored aisle. Monica arrived on the back of a horse. Sherwin, 5 bridesmaids and 5 groomsmen all dressed in light grey waiting for the bride by the arch. It's good that there was lots of space as that dress wouldn't fit in any ordinary church or a narrow hotel hallway.
After the ceremony, Monica changed her royal wedding gown into a more comfortable elegant lace dress and we went for a photoshoot around the castle. I love the chateau as a backdrop of the photoshoot.
The day was perfectly planned and executed by Wei from Iris Weddings Paris, thank you Wei for the amazing day! To see other events planned by Iris weddings Paris, please check here.
Wedding dinner at Chateau d'Artigny
As you might know the red colour in Chinese culture symbolizes luck and happiness. so red wasn't left out of this wedding as well. Tables decorated with gorgeous red flowers and red napkins and lots and lots of candles. The food was excellent as always at Chateau D'Artigny.
Multiple bridal dresses
Have you noticed that Monica has changed the dress for dinner? In China, brides wear up to five dresses during the wedding day. There's one for the morning, other for the door games. Third for the ceremony, fourth for the photoshoot. Fifth for the dinner party, sixth for the tango and the seventh for the party. So yes, I should say seven. With changing dresses the bride shows of her diversity, the ideal bride in Chinese culture is multidimensional.
They had the French croquembouche as their wedding cake. I absolutely love this cake. Every ball can consist of different filling and I like the surprise moment when you eat it. The cake definitely deserves its name "crunch in the mouth"
After the fireworks, we got our cherry on the top and that was the Tango. Monica dresses in the most beautiful olive velvet dress got her steps just right and Sherwin lifted her as a small fairy around the dance floor. The dance was perfect, just like the whole day was.
Thank you Monica and Sherwin for choosing me as your destination wedding photographer. Have a great life!